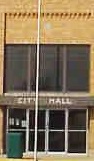 Democrat Thomas Estabrook will face Republican Ray Hooten in the Bicknell Mayor's race this fall.
Both men were the top vote getters in their respective primary races Tuesday.
Estabrook defeated two other Democratic candidates with 246 votes. Stacy Allen received 113 votes and Jeff Chambers 96.       Estabrook who is the Vigo Township trustee shared his vision for Bicknell if elected in the fall.
On the Republican side of the ledger…Ray Hooten received 96 votes, John Stanczak finished with 30 votes and Wayne Bement 29.
Voter turnout was light in Bicknell despite having six candidates to choose from for Mayor.
A total of 632 people cast ballots in the  primary out of 2,088 registered voters in Bicknell.
Meanwhile, there were no contested races in the City of Vincennes Tuesday.