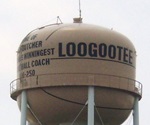 A close race for the Democrat election for Clerk/Treasurer in Loogootee as Democrat incumbent Nancy Jones defeated two challengers.  Jones finished with 178 votes to Gianna Armstrong with 176.  Ronald Gilbert came in 3rd with a strong showing of 110 votes.
For Loogootee City Council District 1, incumbent James Taylor lost to Teresa Nolley  who finished with 231 votes.  Taylor had 175.  The other challenger Roy Pannell had 56 votes.
In District 4, Tim Lawrence had 260 votes to Bettye Norris' 181.
In the Council at Large race, incumbent Fred Dupps fell to challenger Roger Downey.  Downey had 241 and Dupps 214.