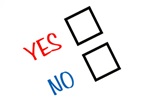 22% of registered voters turned out in Pike County to vote for the only item on the ballot…..a 29 cent increase in property taxes to help with school funding to offset the loss of property tax revenue lost when state circuit breakers went into effect  in 2008.  In addition,  a previous school administration has been blamed for over spending of school funds.
If passed, the measure would have generated 2.3 million per year for the school system over the next five years.
According to final numbers the vote was 1,382 against the referendum and 647 for it.
Pike County School Superintendent Suzanne Blake told the Press Dispatch newspaper she and the school board will be making a final review of options to reduce spending in the general fund and the reliance of the Rainy Day Fund and bank loans to make monthly expenses.  She said they will continue to be transparent with the community and provide updates on progress.