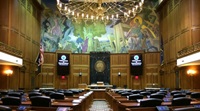 Bill to ban abortions over disabilities stalls in House
A bill that would prohibit abortions based on fetal disabilities such as Down syndrome will not receive a committee hearing in the House this session.
House Public Policy Committee Chairman Tom Dermody said Wednesday that he chose to focus on other issues that the committee could advance in a limited amount of time. Lawmakers face a Thursday deadline for bills to be voted out of committee.
The Senate voted 35-15 in February to advance the bill.
Supporters say it's needed because some doctors encourage abortions after a fetus is diagnosed with Down syndrome or other developmental disabilities.
Opponents fear the proposal would interfere with the doctor-patient relationship by not allowing a physician to discuss all options with pregnant women