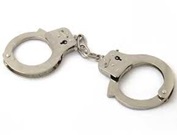 Daviess County Arrests
Justin Scott Blake, 36, of Cannelburg, was arrested shortly after 1pm Thursday afternoon on a court order for Failure to Appear.
Jay William Atkins, 26, of Cannelburg was arrested Thursday afternoon by Daviess County Sheriff's Deputies for Possession of Cocaine, Possession of Methamphetamine and 3 counts of Possession of a Controlled Substance. He is being held at the Daviess County Security Center on a $25,000 bond.
Michael Eugene Sluder, 67, of Washington, was arrested for a traffic offense Thursday evening. He is being held in the Daviess County Security Center. No bond has been set.
Guadalupe Fuentes III, 23, of Washington was arrested on a Failure to Appear Warrant. Bond was set at $5,000 and was posted.