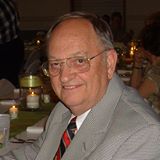 Daviess County Historian Don Cosby has recently published his third collection of historical sketches, essays, and anecdotes. Entitled "My Scrap Book," it follows a similar format to his popular previous works "Revisiting the Past" and "Legends, Legacy, & Folklore."
To celebrate the launch, Don will be having a book signing at the Daviess County Museum, 212 E. Main in Washington, on December 7th from 3:00 to 6:00 PM.
"I had a tremendous amount of local historical items that was in my scrapbooks that when I'm gone would be lost," Don said when asked about the inspiration for his new book. "It's a sharing of short local historical items of interest of people, places, and things. "
The book will contain, among other items, a continuation of the historic home survey which Don began in his previous book. "I did thirteen homes in my last book but I always knew I could do more," he said. "People always ask me why I did one home and not another, and now I have the opportunity to include some of the others which didn't make it." Don's house profiles include information and anecdotes about the owners and, for the first time, some will include color photographs.
"In general this book will include many more photographs than my earlier books," he says. "I think it's a major upgrade in attractiveness and presentation for the reader." Don also says that the typeface will be larger in this book in response to feedback he received from certain readers.
Other features of the book include profiles of Daviess County patriots; people who have contributed to making the community what it is today like Joseph Cabel, who donated the land where the Washington Public Library was built.
Don maintains that this will be his final book. "It contains stories that I felt had never been written about before and were worthy of remembrance,," he said.
For more information about Don's book or the Daviess County Historical Society, call (812) 257-0301 or email dchistory@sbcglobal.net.