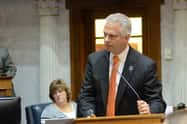 Spotlight On: Workforce
Development
Improving our state's workforce has been and will continue to be a top priority for our state, as more than one million jobs are expected to open in Indiana over the next decade when more baby boomers retire and additional companies choose to grow or locate in our state.
During the 2018 session, the Senate and House of Representatives authored bills that work together to enhance our workforce development efforts, and Gov. Eric Holcomb included the topic on his 2018 agenda.
Senate Enrolled Act 50 improves how workforce development is overseen in Indiana by creating the Governor's Workforce Cabinet. This will replace the previous 43-member workforce governing body with a more nimble, decisive and accountable board that will streamline our job-training efforts. SEA 50 also increases students' access to career coaches to help them identify career paths.
House Enrolled Act 1002 works to skill up Hoosiers by expanding eligibility for job-training programs and reimbursing employers for the training necessary to fill high-need jobs.
Both of these bills were recently signed into law by Gov. Holcomb.
To watch a video that further explains our workforce development efforts, click here.
Golden Hoosier Award Nominations Available
Nominations for the 2018 Golden Hoosier Awards are now being accepted.
The award, which is sponsored by the Office of the Lieutenant Governor and the Indiana Family and Social Services Administration's Division of Aging, began in 2008 and honors Indiana senior citizens for their service to their communities.
Nominees must reside in Indiana, be 65 or older and be a community volunteer for at least the last three years.
Click here to fill out a nomination form. Forms must be submitted by Monday, May 14.
Local Farmers 
Receive Awards
Local farms across Indiana were recently honored with Hoosier Homestead awards at the Statehouse.
The awards recognize families who have greatly contributed to Indiana agriculture. To be named a Hoosier Homestead, farms must be owned by the same family for at least 100 consecutive years.
Families can receive a Centennial, Sesquicentennial or Bicentennial Award.
In Senate District 39, the Ryan farm was honored with a Sesquicentennial Award.
For more information on the program, click here.