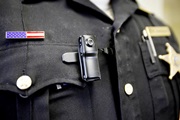 A bill has passed the Indiana House which would allow law enforcement to withhold police body camera video
The bill passed 65 to 30.
Hoosier State Press Association Director Steve Kay and Indiana Broadcasters Association President Dave Crooks were among those opposing the bill saying it gives police departments incentives to deny public release of body camera footage.
Crooks is hopeful the bill won't pass the Indiana Senate when it's considered there…
AUDIO/CROOKS 2 :22 Q; KNOW THE TRUTH
Crooks said he was disappointed the issue seemed to have become a partisan issue in the House.  Only two Republicans, Bruce Borders of Jasonville, and Tom Saunders of Lewisville voted against it.