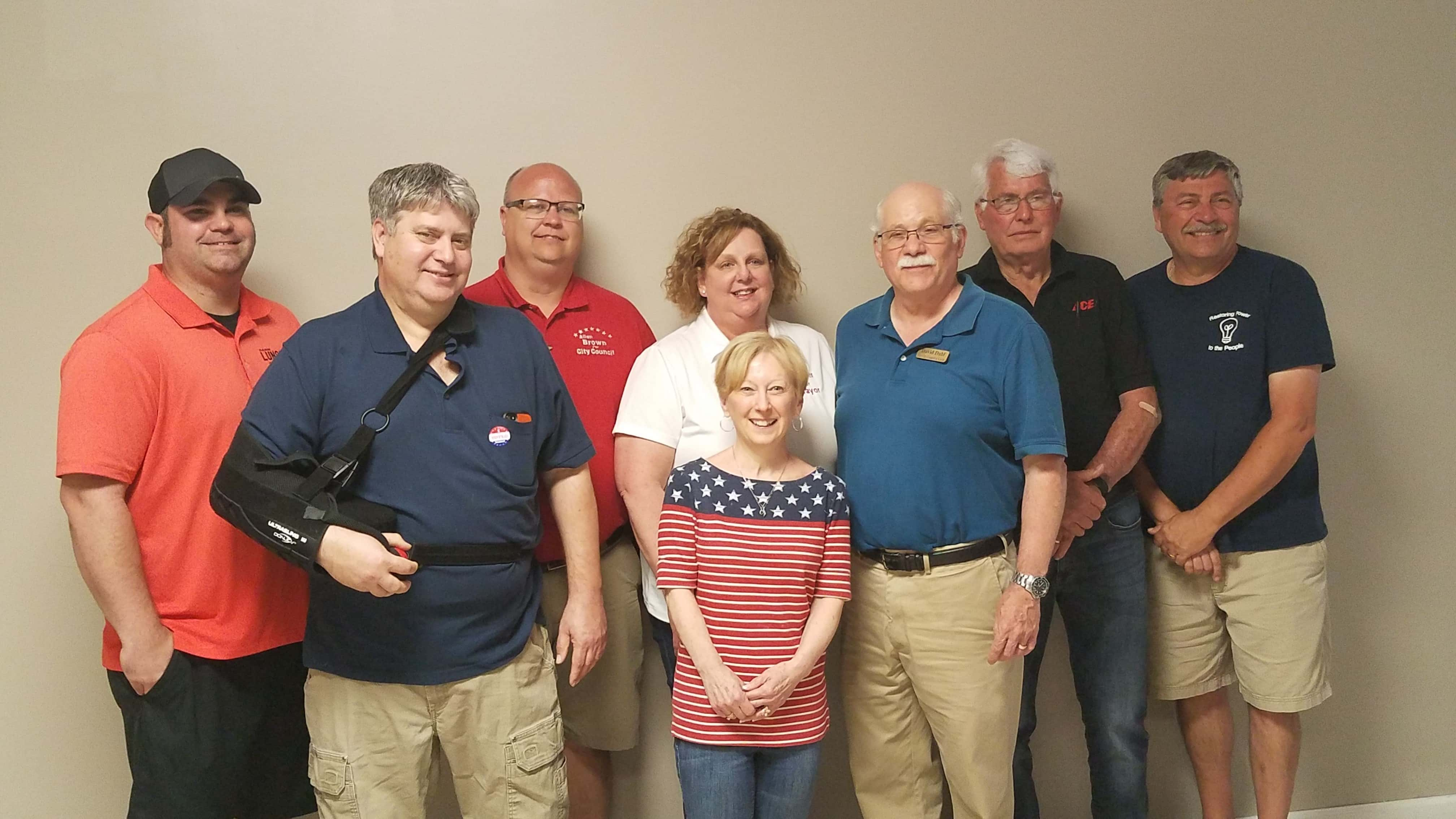 (pictured/Republican Municipal Primary Winners.   Front Row: City Council At Large Candidate Ken Showalter, City/Clerk Treasurer Beth McGookey, City Councilman at Large David Dahl.  Back Row:  City Council District 1 Candidate Darin Lunsford, District 2 City Councilman Allen Brown, Washington Mayoral Candidate Diana Snyder, City Council District 3 Candidate Tom Gress, City Council District 5 Candidate Randy Emmons.)
      Republican Diana Snyder will continue her trek to become Washington's first female Mayor as she defeated two opponents in Tuesday's Municipal Primary…
    Snyder finished with 64% of the vote or 964 total votes.  Building Commissioner Don Williams had 23% or 352 votes while City Councilman Jerry Sidebottom finished with 12% or 182 votes.
        There were 1742 votes cast which is 25% voter turnout of the 6934 registered voters in the city.
        Snyder will face Democrat Dave Rhoads, who is the current City Fire Chief in the November election.  Rhoads, who ran unopposed, took time to enjoy the day and make a few rounds….
        216 Democrat voters went out to cast their ballot for Rhoads in Tuesday's Election.
—-
WASHINGTON CITY COUNCIL RACES
            The Republican ticket is set for the city council races in November.  In yesterday's primary Darin Lunsford won his race in District 1 over opponent Andrew Heidenreich.
         Lunsford says he's glad it's over…
            Lunsford won with just over 60% of the vote.
            In District 2, incumbent Allen Brown held on to his seat with a nearly 67% margin over challenger Eric Headly.  Brown won by 105 votes…
            In District 3 which is Jerry Sidebottom's seat. Sidebottom did not seek re-election to run for Mayor, a  former City Councilman, Tom Gress took that race with an 11 vote win over opponent Clarissa Cornelius. The count was 104 to 93…
            In District 5, Council member Siarra Decker lost her bid for re-election.  She finished with 52 or 15% of the vote.  Fellow Republican David Eskew had 24% or 81 votes.  The winner was current Electric Department Head Randy Emmons who had 60% or 203 votes…
            No Democrats are currently filed for any of those city council races. They have until June 30th to file, but if none file all of the above candidates will take office in January.
            In City Council District 4, Democrat Councilman Doug Campton ran unopposed. He currently has no Republican opposition in the fall.  36 Democrats turned out to vote for Campton.
            Two City Council-At Large seats will be voted in in November.  There are 4 candidates in those races. They are Republican incumbent David Dahl and Republican Ken Showalter.  Democrats Ernie Evans and Ron Critchlow are also running.  Voters will choose 2 of the 4 in November.  Current At-Large Councilman, Blake Chambers, a Democrat is not seeking re-election.