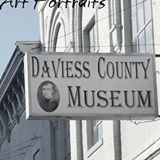 At the heart of any local historical society is its document archive, the vault of collected knowledge waiting to be unlocked by adventurous seekers in search of lost stories of the past. The Daviess County Museum is ready to unveil a significant step forward in preserving and unlocking its own archive with the opening of the new Research Room on April 25. A special free premiere event and reception celebrates the debut of the new facility beginning at 6 PM in the museum located at 212 E. Main St. in Washington.
The new Research Room is the culmination of nearly two years of planning and construction to transplant the DCHS archives from their previous cramped home on the second floor into the more spacious location on the floor above in the former office location. This allows for a more comfortable environment for genealogists using the archives as well as an industry-standard preservation system that will keep the collection protected and organized for generations to come.
The project has been funded in large part by a Heritage Support Grant from the Indiana Historical Society made possible by Lilly Endowments, Inc. as well as a grant from the Daviess County Community Foundation.
"The DCHS archives collection has always been a favorite source of genealogical materials like personal scrapbooks and family histories which are often old and fragile," said museum director Becky Kremp. "The new Research Room gives us climate-controlled and secured surroundings, which helps us fulfill our mission of preserving and protecting Daviess County History."
Visitors to the Research Room will be able to handle thousands of books, photographs, and documents from the collection which have been declared suitable for public viewing and handling by the museum's Collections Committee. These include genealogy scrapbooks from hundreds of local families, high school yearbooks, history books from Daviess County authors, original records from churches, clubs, and businesses, and much more. In addition, the Research Room will also include computer terminals for visitors to access all of the museum's digital collection catalog provided by PastPerfect Online as well as many historical and genealogical resources on the web.
Also debuting April 25 is the museum's new History Scholar Program, an opportunity for aspiring historians of all ages to use the new Research Room to complete a series of questions and activities related to Daviess County history and win special recognition. More details will be available soon, stay tuned to your local media and watch   daviesscountyhistory.com. for more details.
The premiere event will also feature a Q&A session with Daviess County Historian Don Cosby If you have a question you would like to hear Don discuss at the event, please email dchistory@sbcglobal.net. Don has authored three books of local history essays and anecdotes; his most recent is entitled "My Scrap Book."