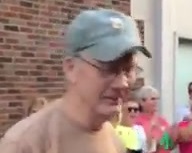 All of the mayhem came to an end Saturday night as the Knights of Columbus Treasure Hunt Jackpot was won by a Pike County Man. 
        Guy Hatt of Petersburg had his name drawn and he won the entire prize of over 2.5 million dollars.   We asked him what his plans were and he had a short answer…
        Hatt said he bought 100 tickets.  The winning was broadcast live on WAMW on air and online.  
——————–
Hear the entire drawing and interview 
You can see video and photos of the event on the WAMW Facebook page.