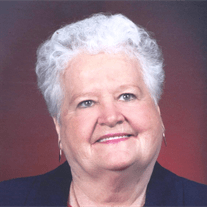 Marilyn "Sue" Goode died on Sunday.
Marilyn "Sue" Goode, age 81 of Washington, passed away April 24, 2016 at Jasper Memorial Hospital at 7:16 pm.
She was born June 26, 1934 in Brazil, Indiana to Veronica (Haag) and Lawrence T. Bullock.
She was a 1952 Montgomery High School graduate. She owned and operated Cannelburg Poodle Kennel. She was a member of All Saints Catholic Church and St. Peter Catholic Church. She loved all her dogs.
She is survived by one daughter, Patsy Stanley (Derrick) Healy of Washington, a sister Jacqueline Adams of Greenwood, two stepsons; Wayne Goode and Rob Goode both of Indianapolis, two stepdaughters; Linda Sonley and Becky Goode both of Indianapolis, a granddaughter, Holly (Peter) Curry of Florida, and several step grandchildren and step great-grandchildren.
She was preceded in death by her husband Rex A. Goode, whom she married May 13, 1967, passed away, in 1999, two daughters; Debbie Stanley, Pam Wilson, a sister, Sarah Marie Kelso, three brothers; William Bullock, Larry Bullock, and John Bullock.
A mass of Christian burial will be celebrated Thursday at All Saints Catholic Church in Cannelburg with Rev. James Koressel as celebrant. Burial will be at a later date. Visitation will be prior to the funeral Thursday at the church from 4 – 6 pm. In lieu of flowers, memorial donations may be made to Friends for Animals, P.O. Box 402., Washington, IN 47501. Online condolences may be made at www.edleemortuary.com.