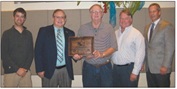 photo from Washington  Times Herald
The Cannelburg Mine has received the highest award for outstanding achievement in surface coal mining and reclamation.
The Washington Times Herald reporting today that the the Solar Sources mine received the the Excellence in Mining and Reclamation Award for 2015 from the Indiana Department of Natural Resources.
Indiana Division of Reclamation Director Steve Weinzapfel said the mine was  in part recognized by the state for its ability to make the land useful once again.
The Cannelburg Mine has had several owners over the years. Solar Sources has reclaimed about 3,000 acres. Some of it became cropland. There were several streams that were rebuilt, 34 lakes and some forest land.