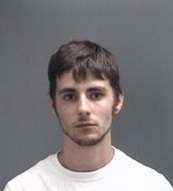 An accident near Toyota in Gibson County resulted in the arrest of a Washington man Thursday morning.
The Gibson County Sheriff's Department says they received the report of the crash at 5:36-am local time.  It had happened on Tulip Tree Drive.
It was discovered that 21-year-old Devon Gordon of Washington had allegedly rear ended another vehicle.  After a check, it was found that Gordon was driving with a suspended license.  He was booked into the Gibson County Jail and later posted bond. There were no injuries in the crash.