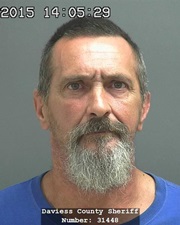 Late Thursday, State Police released details of Wednesday night's drug bust in Odon.
As reported yesterday, 54-year-old John S. Brock was jailed for possession of meth.
State police say they were acting on a trip of possible drug activity at a residence at 205 North West Street in Odon.
When police arrived to the house, they spoke with Brock who gave police permission to search his house.
While searching, officers found methamphetamine and other drug paraphernalia, two homemade smoking devices, and Xanex pills.