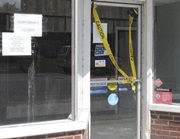 (photo from Washington Times Herald)
The Plainville Post Office was a topic of discussion during Thursday mornings Davieess County Council meeting.  Plainville has been without a local post office since storm damage made the Plainville Post Office unusable.
Lee Kaufmann of the Plainville Town Board was asked about the situation during Thursday's budget reviews.  Kaufmann told the Council the owner of the Post Office building is unwilling to invest in the needed repairs to the building.   He added that despite the Plainville Town Board reaching out to  postal officials and met with Congressman Bucshon there has been no resolution to the problem.
Kaufmann said the town has located potential sites for postal service but the Post Office has made no response.  According to area businesses, the Postal Service is searching for locations of a suburban style mailbox complex…but does not want to pay for use of the property or assume liability for the location.   Kaufmann noted that even with the mailbox complex, Plainville residents would still have to travel to Washington or Odon to conduct business or send packages.   Council President Mike Sprinkle said that the biggest frustration is not getting any communication from the Postal Service.