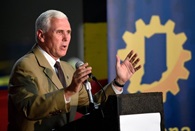 Governor Mike Pence is requesting that 53 counties be declared disasters, due to recent flooding.
Included on that list, are counties Knox, Gibson, Pike, Greene and Sullivan.
Counties not on the list are Daviess, Martin and Dubois.  Daviess County farmer Mike Myers told the Washington Times Herald that Daviess has had some losses but but he says Daviess is in better shape than a lot of the rest of the state. Most of the local losses were due to flash flooding and bottom land flooding he said.
Pence sent his request to the U.S. Department of Agriculture earlier this week.
Under a disaster designation, low interest emergency loans will be made available to all producers suffering losses in their county.
Hoosier farmers are encouraged to continue to submit crop damage reports to their county FSA offices as the disaster event is ongoing and continued monitoring is necessary to determine if additional counties should be added to the declaration request.
Here is a list of all counties in the request…
Adams, Allen, Bartholomew, Blackford, Boone, Brow,n Cass, Clay, Dearborn, Delaware, Fountain, Gibson, Gran,t Greene, Hendricks, Henry ,Howard, Huntington, Jackson, Jasper, Jay, Jefferson, Jennings, Johnson, Knox, Kosciusko, Lake ,LaPorte, Madison, Marion, Marshall, Miami, Monroe, Montgomery, Newton, Ohio, Pike, Porter, Pulaski, Putnam,Randolph, Ripley, Scott, St. Joseph, Starke, Sullivan, Switzerland, Tippecanoe, Vigo, Wabash, Washington, Wayne, Wells.