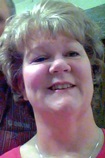 Carrie Ellen Sweet 48, of Washington, Indiana passed away after a 4 year battle with ovarian cancer at her home on July 31, 2015 surrounded by her loving family. She was born on March 8, 1967 in Washington, Indiana to Curtis George and Hazel Merle (Gilley) Gootee. In 1987 she graduated from Bar- Reeve High School. On January 12, 1990 she married Hershel Sweet Jr. She was employed as a logistics specialist for Crane Naval Weapons Depot. Carrie loved golf, and she loved the outdoors, she enjoyed sitting around campfires, camping, and fishing. Most of all she loved to cook for her family.
Carrie is survived by her husband Hershel Sweet Jr., her son Bryant Sweet, her brothers; Michael Gootee (Beth), Victor Byer, and Kevin Byer (Linda), her sisters; Vicki Witsman (Mike), and Ronnetta Bough (Rick), and five aunts; Ferby Nolley, Sally Bradley, Dorothy Jones, Nancy Wessely, and Trudy Davis.
Carrie was preceded in death by her parents Curtis and Hazel Gootee, her step- dad Vic Byer, and several Aunts and Uncles. A memorial will be held on Sunday, August 2, 2015 with visitation from 11-4 at Gill Funeral Home, and a memorial starting at 4 pm led by Scotty Munning. Private Family graveside memorial will held on a later date. Online condolences can be made at www.gillsince1872.com.