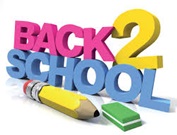 The Back to School Bash is underway at Eastside Park in Washington.  It started at 7 and the fishing tourney started at 8 and goes till 10.
The event is meant to be a last bash before school starts Tuesday.  It's all free from the city of Washington and the Parks Department.  Park Superintendent Kip Kelley….
Again activities are free at East Side Park.  It's also a free swim day at WaterWorld of Washington.