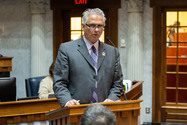 From his office, State Senator Eric Bassler reports…
Each year, my legislative survey provides Hoosiers living in Senate District 39 with the opportunity to share their thoughts and opinions on a variety of issues. My office recently calculated this year's results, which include online and mailed-in responses. You can view the results by clicking here.
Thank you to everyone who took the time to fill out my legislative survey. These responses allow me to make more informed decisions when voting on bills in the Senate.
It is my duty and privilege to represent the voices of those living in our community, and I will continue to keep your feedback in mind as my colleagues and I consider the issues facing our state.
If you wish to provide input as session moves forward, please contact my office by phone at 800-382-9467 or by email at Senator.Bassler@iga.in.gov.
New Program to Curb
Youth Vaping
In recent years, vaping has skyrocketed in popularity, especially among teens. Nationally, there was a 78% increase in teen vaping between 2017 and 2018.
In Indiana, nearly 17% of students in grades 7-12 now report that they vape, making vaping the No. 1 most popular tobacco product among young Hoosiers.
To help reduce these alarming statistics, the Indiana State Department of Health, in partnership with the Truth Initiative, recently launched This is Quitting, a text message program to help Indiana teens and young adults who want to quit vaping.
Hoosier youth who need help to quit vaping can text "Indiana" to 88709 and receive age-appropriate recommendations about ways to quit.
Participants enrolled in the program will receive a daily support text for at least 60 days after their quit date. Individuals who are interested in ending e-cigarettes use but aren't yet ready to set a quit date will receive at least four weeks of messages focused on building skills and confidence to prepare for quitting.
For more information on the program, visit VapeFreeIndiana.isdh.in.gov.
—
This week, I presented Senate Resolution 22 to the Monday Afternoon Club in honor of their 125th anniversary. For more than a century, this group has contributed to humanitarian efforts in Indiana, including cultural and literary endeavors.
Thank you to the generations
of dedicated women who
have made the Monday
Afternoon Club a success
in our community.
Indiana Hits Record Employment in 2019
Last year, Indiana's workforce remained strong as our state continued to attract new jobs and investments.
According to the Indiana Department of Workforce Development, here are a few employment highlights
from 2019:
The number of unemployment claims filed in 2019 fell to its lowest level in more
than 10 years
Indiana employment peaked in June with a record number of Hoosiers working in the private sector
Unemployment fell to 3.2% in September — the lowest it's been since December 2000
Indiana's labor force participation rate in December remained at 64.4% and above the U.S. rate of 63.2%