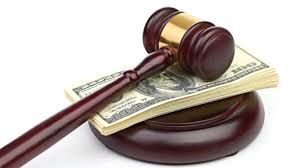 The Washington Board of Public Works and Safety on Monday night, accepted a settlement agreement with Daviess County Rural Water.
          Back in the summer of 2016, the Washington City Council voted to increase the cost of water bought by Rural Water from the city by 57%.   An increase of nearly 15% to non resident customers was also approved.  Daviess County Rural Water then filed suit for breach of contract.  In January of 2017, the local court ruled in favor of Rural Water.  The city appealed that decision and in December 2017.  The state appeals court upheld the local ruling on the 57% increase. However, the the court ruled in favor of allowing an increase on non -resident customers using Washington city water. 
          Last night City Attorney Tim Dant explained that the nearly $132,900 settlement was extra fees that Washington would've received during the litigation period.  Washington Mayor Dave Rhoads comments…
         Several thousand dollars in interest weren't included in the settlement as part of the  agreement.