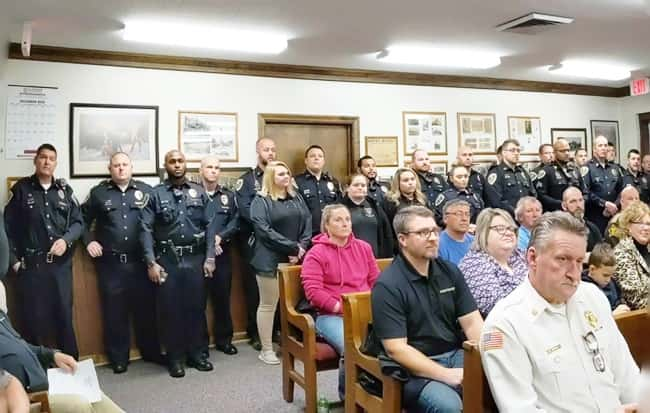 Community members and city officials took time to say "thank you" to Washington's Mayor Joe Wellman at the beginning of Monday's City Council meeting.    The entire Washington Police Department attended the meeting to present Wellman, who will step down as mayor at the end of the month, with a special plaque.   WPD officer Barry Hudson spoke for the City's police officers.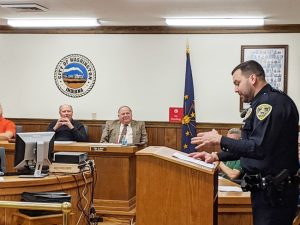 The Mayor was also honored with a presentation from Cindy Barber and past and present members of the Leadership Daviess County Program.   Wellman also heard a chorus of praise from both Republican and Democrat Council members.   At the end of the meeting Mayor Wellman had these remarks.
               Monday's meeting was not only the last meeting for Mayor Wellman, but also Council members Jerry Sidebottom, Blake Chambers, Mike Singleton, and Sierra Sidebottom.
              During the last business session for this Council and the Mayor, the Council approved two ordinances.  One dedicated a portion of Technology Drive as a city street.  The second approved a rezoning of a section of West South Street and SW 10th Street.
     The Board of Public Works and Safety voted to mark two "residents only" parking places on East Flora for use of renters of the apartment above the Catholic Community Foundation offices.  In other business City Street Commissioner Bryan Sergesketter thanked NASCO for the donation of nearly a truck load of safety gear and equipment.