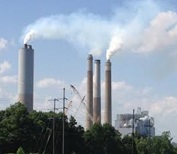 Indianapolis Power & Light is planning to retire two of it's coal-fired units at it's Petersburg generating station. In a notice to state regulators IPL says it's part of the company's integrated resource plan. IPL says the cost of operating the units in Pike County "exceeds the value customers receive compared to alternative resources." The utility added that the move will allow the company to expand its efforts into cleaner, more affordable energy. It's not clear what type of power generation source the company plans to replace the coal-fired units with.
       The Petersburg plant is IPL's largest station in their fleet generating 1700 megawatts.
        The Indianapolis Business Journal reports that the announcement to retire the plants comes amid pressure from political leaders and environmentalists.  The plant has been hailed a quote "super polluter" by environmental groups.
        Unit 1 at the plant will go away by 2021 and Unit 2 by 2023.  They've been operating for about 50 years.  The move cuts 630 megawatts of coal generation but leaves two active coal-burning units running at the power plant until at least 2042.