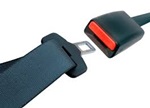 Area law enforcement will be conducting some overtime patrols throughout southern Indiana through the holidays as part of the state's Click it or Live It program.  It's designed to promote the use of seat belts and reduce impaired driving.
        The Indiana Criminal Justice Institute is distributing funds to pay for the overtime provided through a grant from the National Highway Traffic Safety Administration.
        Authorities say that millions across America will travel over the holidays and with more vehicles on the road there's an increased risk of an accident.
        53% of those who die in fatal crashes are not wearing a seatbelte and 63.5% of speed related fataiity drivers and passengers are unrestrained.
        Indiana has a primary seatbelt law which means officers can ticket drivers and passengers if they are not wearing seatbelts even if no other traffic violation has taken place.