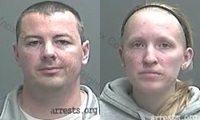 A Vincennes Police officer and his wife arrested last weekend on charges of child neglect will be the focus of a special session of the Vincennes Police Merit Commission.
         Robert and Kristi Hammond of Wheatland are accused of child neglect and Criminal Confinement Mrs. Hammond was also facing a battery charge at time of her arrest.  
        Published reports say that probable cause affidavits state an incident allegedly involved a wooden object across the face of the child and locking the child out of the couple's home.
        The Merit Commission meets tomorrow on the matter.  The meeting is not open to the public.