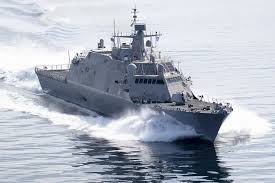 (NETWORK INDIANA)   The U.S. Navy says commissioned its new USS Indianapolis combat vessel at a northwestern Indiana port today.
Commander Colin Kane gave a preview of the ship Thursday at the Port of Indiana in Burns Harbor.
"We have four tunnels underneath the ship that draw water up and shoot them out the back of the ship, so it's very much like a jet ski. It's extremely maneuverable," Kane said.
Kane says the ship will have a crew of around 70 people and is equipped for mine hunting operations. He says it is equipped with the mine warfare mission package.
"It has various surface vehicles, boats, as well as airborne systems for mine hunting and mine neutralization," Kane said.
It's also designed for anti-submarine warfare. Kane says he wanted to make sure the ship was commissioned as close to Indianapolis as possible.
Ship commissioning is the act or ceremony of placing a ship in active service and may be regarded as a particular application of the general concepts and practices of project commissioning.
This is the fourth ship to bear the name USS Indianapolis. Commissioning was at Burns Harbor along Lake Michigan. Then the ship goes to the Naval Station Mayport in Florida.
The second USS Indianapolis was sunk by a Japanese submarine in July 1945 while returning from a Pacific island where it delivered key components for the Hiroshima atomic bomb. Only 317 of its nearly 1,200 crewmen survived the sinking and days in shark-infested waters.