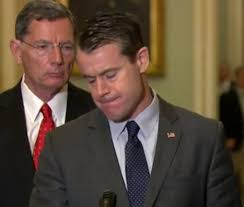 (NETWORK INDIANA)   Sen. Todd Young says he has called for a federal investigation into the activities of Dr. Ulrich Klopfer, who lived in Illinois, performed abortions in Indiana, and had nearly 2,500 aborted fetuses in his house, discovered following his death.
"Pro-life principles are supported by a majority of Americans and certainly by most Hoosiers. In light of this horrific discovery, now is the time. Now is the time! for our colleagues to join us in protecting innocent life," he said from the podium at a Tuesday news conference.
Representatives Jackie Walorski, and Jim Banks have also condemned Klopfer's actions. The doctor, whose license was suspended in 2015, performed abortions at clinics in Gary, South Bend and Ft. Wayne. The fetuses were discovered last week at his home in Will County, Illinois.
"Sadly, it appears that we in the State of Indiana, have our own Kermit Gosnell," said Young. Gosnell was convicted of murdering three babies born alive.
"This discovery is grotesque and of course we need to learn much more about this despicable situation so that we can all ensure it never happens again."
Watch  video of Senator Young's remarks here