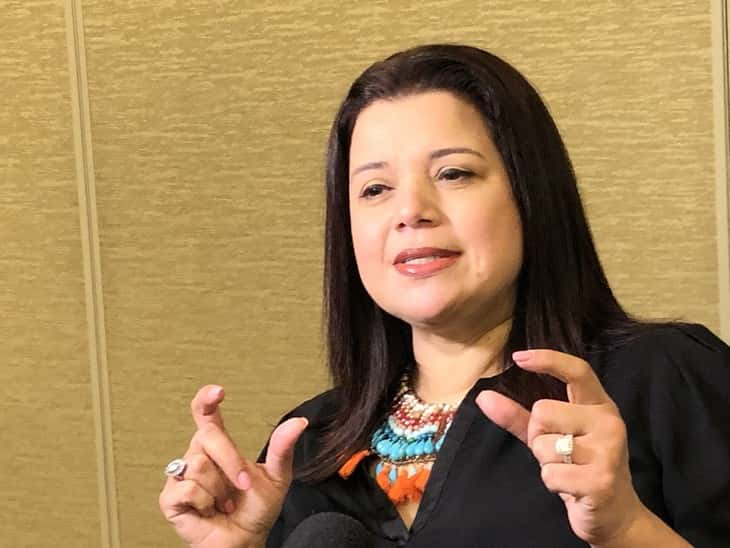 (photo from WIBC)
(NETWORK INDIANA)  A prominent "never Trump" Republican consultant says the party's change in direction under President Trump may not be permanent.
C-N-N commentator and "The View" panelist Ana Navarro was in Indianapolis to address the Indiana Latino Institute. Navarro says she's still a Republican, but can't side with party members who brush aside the president's Twitter outbursts as a difference in style, while crediting him with delivering a strong economy and a more conservative Supreme Court. Navarro blasts Trump as a divisive and dishonest leader who's cost the U-S respect around the globe, and says economic indicators can't make up for that.
But Navarro argues the version of Republicanism Trump has forged also goes against Republican values on policy, pointing to Trump's trade wars and tariff threats as counter to Republican free-trade principles.
Navarro has been a sharp-tongued Trump critic, tagging him "President Loco" on television and Twitter. She maintains plenty of Republicans are similarly disenchanted, but fearful of losing their seats in Congress if they speak out. She argues just as Trump altered the party in three years, those Republicans can change it back just as quickly. But she concedes it's not clear how they go about it, and says it'll be a "harder slog" if Trump wins a second term.
One figure Navarro doesn't see as part of a reinvented Republican Party: Vice President Pence. Navarro says the former Indiana governor is permanently linked to Trump, for better or for worse. Navarro says Pence "for a while got away with playing dumb," but predicts Pence can't fall back on his pre-White House history as a religious conservative. She slams Pence as "complicit with somebody who embodies anything but Christian values."