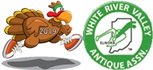 Daviess County's biggest tourism weekend of the year is getting underway with the White River Valley Antique Show and the Montgomery Turkey Trot.
        The antique show is celebrating 35 years at the fairgrounds in Elnora.  Activities get into full swing Friday but today there are some preliminary events including some limited demonstrations starting at 9 right after the flag raising and opening prayer.  At 1 is the traditional Wagon Train trek from Odon Park to the Elnora Fairgrounds.  Billy Bays with the antique association says they are happy to offer a family friend event every year…
       Also tonight at the antique show there's music in the shelter house at 6:15 and 7:45.  There's a horse pull in the arena at 7.
        At the Turkey Trot tonight, the featured entertainment are the The Truck Outlaw Class and Tractor Pulls, spokesperson Tony Showalter…
        The pulls start at 6:45. Also at Turkey Trot, the carnival rides open at 5.  Those are free with paid admission.  Turkey races start at 6 pm.  There's bingo at 6:30 at the Community Building. Beer Garden is open 6 to 10.