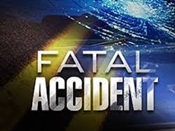 Four people, two adults and two children were killed in a two car crash at State Road 58 and County Road 425-East in Daviess County last night near 358.
        The call came in about 6:30-pm.  The Daviess County Sheriff's Department reports those who died were in a southbound vehicle and for an unknown reason did not yield the right of way to a westbound vehicle and a crash occurred.  The lone occupant of the westbound vehicle was taken to Daviess Community Hospital with a head injury. 
        The investigation continues, and names have not been released.