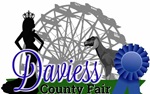 Little Miss and Mr. were crowned last night at the Daviess County Fair.  The winners were Lola Dubon and Bronson Higgins.
            The  fair continues tonight.   The carnival and rides open at 6-pm.  The free entertainment on stage is the band Haywire at 7 and in the arena tonight, stock car racing makes it's Daviess County Fair Debut.
         Tomorrow night (Friday)at the Daviess County Fair a big event returns as the Full Throttle Monster Trucks will be back to take over the arena.  This event isfor the kids and the adults.  J.R. Roush with Full Throttle tells us the drivers love coming to the local county fairs, because they get a better chance to meet the fans one on one..
      Roush says six familiar trucks will be back at the fairgrounds competing in three different categories…
    The Monster Truck Show begins with a pit party meet and greet at 5pm tomorrow, and the action on the track will get started at 7:30pm.