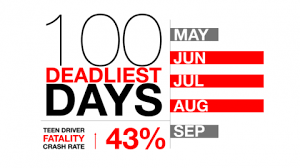 (NETWORK INDIANA)    Teenagers in Indiana and everywhere are being told to take extra caution this summer while driving.
Memorial Day to Labor Day is known as the "100 Deadliest Days" for teenage drivers, due to the sharp annual increase in car deaths involving young drivers. Julie Garner, who lost her son to texting and driving, says she wants teenagers to be just as involved as elected leaders when advocating for safety.
"Sadly car crashes are the one of the leading causes of death of our youth in this country, if not the leading cause from time to time. I know that all too well," Garner said.
Garner created the Project Yellow Light program, which awards scholarships to students that create TV, radio and billboard public service advertisements to prevent distracted driving.
With summer break and summer vacations going on now, more people are on the roads.
"It's the end of the school year. Everybody is out and about and partying or just having that freedom. It's just the most dangerous time of year Garner said.
On average, distracted driving kills more than eight people in the US each day. In 2017, 3,000 people were killed in crashes involving distracted drivers, representing over eight-percent of all crash fatalities that year.
From 2002 through 2011, an average of 75 young drivers were killed every year in collisions on Indiana roadways. In 2012, over 40-thousand Hoosiers under the age of 21 were involved in car accidents.