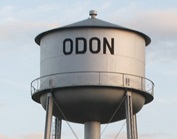 Billie Sue (Susie) Roach has entered the race for Odon Town Council.
        She is a lifelong resident of the town and says she wants to see the town grown and prosper.  She mentioned capitalizing on the expanding West Gate properties at Crane and I69. 
        The Odon Journal reports that Mrs. Roach is currently a Management Analyst at Crane Army Ammunition Activity and has worked for the federal government for over 35 years.  She's currently responsible for a $30-million budget.  She says her years of government finance experience will greatly benefit the town if elected.