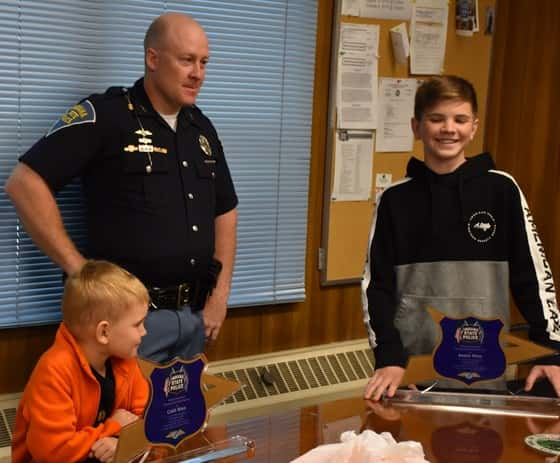 Earlier this week, Indiana State Police Master Trooper Eric Williams and Jasper District Commander Lieutenant Jason Allen presented Caleb & Austin Wren with the Indiana State Police Distinguished Public Service Award for their actions on November 30th, 2018.
The Wren brothers, who live in the same neighborhood as Master Trooper Williams were outside playing when they observed the Williams family home was on fire. Much to their credit, the boys leaped into action and summoned a nearby neighbor who was able to contact the fire department.
The Jasper Fire Department said within five minutes the Williams family home would have been a total loss, as the fire was nearing the rafters when they arrived.
Jasper District Commander Jason Allen commended the boys for their brave actions.
Master Trooper Williams repeatedly thanked the boys for their swift actions that saved his home during the holiday season. Williams mentioned that all of his family heirlooms were saved which included photographs of his father during World War II.