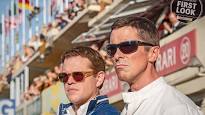 (NETWORK INDIANA)   Actors Matt Damon and Christian Bale will wave the green flag for Sunday's Indianapolis 500.
The duo are starring in a new racing movie called "Ford v. Ferrari." It tells the story of the battle between the two companies at Le Mans in 1966.
One of the screenwriter's for the film? Indianapolis native Jason Keller. He's a graduate of North Central High School and Ball State University.
"When you start to understand the story, and when you see the movie, it's deeper than just racing or cars," Keller said to WISH-TV. "It's really about the guys who build the cars and race them, and push them to their limits."
Keller says it's been fun working with Damon and Bale.
"They are racing fans, Christian especially," Keller added. "He's a guy who really loves motorsports."
Keller started his screenwriting career in 2011. He wrote "Mirror Mirror" starring Julia Roberts, and the film "Escape Plan" with Arnold Schwarzenegger and Sylvester Stallone. He's also the executive producer for the fifth sequel in the "Die Hard" franchise, "A Good Day to Die Hard."
While Damon and Bale will be waving the green flag to start the race Sunday, Keller says he cannot make it to Indy this weekend. But he will be watching, like he does every year.
"Ford v. Ferrari" hits theaters November 15.