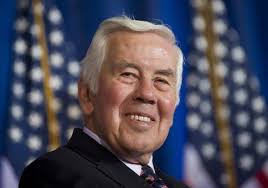 Richard Lugar is back home again in Indiana, lying in state.
Governor Eric Holcomb, Indianapolis Mayor Joe Hogsett, and House Speaker Brian Bosma greeted a military honor guard carrying the former senator's flag-draped casket into the statehouse rotunda. He lay there till sunset Tuesday, and today was moved to Saint Luke's United Methodist Church on Indy's north side for the funeral.
Lugar's casket was flanked by twin wreaths with banners reading "Indianapolis" and "Indiana." Holcomb says the former Indianapolis mayor always carried the city and state with him, in Washington and in travels around the globe. He says Lugar never sacrificed an ounce of his character, always placing love of country ahead of political considerations.
Hogsett says Lugar's work to make the world safer, including inspection visits to carry out the Nunn-Lugar denuclearization program in the former Soviet Union, came with the knowledge it could carry a political cost. Lugar's career ended abruptly in 2012 with his loss in the Republican primary as he sought a seventh term.
"He fought hatred; he did not court it," Hogsett declared. "He calmed fear; he did not attempt to use it. He extinguished violence; he did not countenance it."
A display at the entryway to the rotunda showcased photos from Lugar's long career, including one with his Nunn-Lugar co-author, Georgia Senator Sam Nunn, and pictures with Presidents Reagan, Obama, and both Bushes. There are also two photos with Birch Bayh, who served alongside Lugar in the Senate for four years, and had his own statehouse memorial service earlier this month.
Vice President Pence, who represented Indiana in the House during the final 12 years of Lugar's state-record 36 years in the Senate, is a speaker at today's funeral.