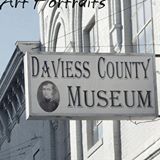 The Daviess County Museum is hosting the official opening of the new Research Room, this evening at 6 p.m.
As part of the grand opening of the Research Room, the Museum will be hosting a "Evening of Conversation" question and answer session with Daviess County Historian Don Cosby, and the launching of the new History Scholar Program.
The Research Room is the new home to the Museum's genealogical archives. The Research Room offers a large collection of individual family histories, annuals from past and present Daviess County High Schools, and four computer work stations where researchers can access, on-line, items in the museum's collection that are not on display.
The History Scholar Program will give both budding and experienced historians of all ages an opportunity to answer questions and complete activities related to Daviess County history. Certified scholars will be awarded a special History Scholar Patch.
The Grand Opening of the Research Room is a free event.