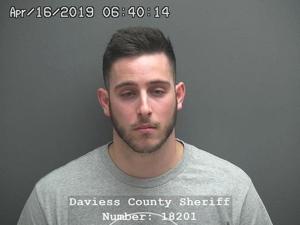 More details have surfaced concerning the arrest of 23-year-old Terry R. Hill-Junior of Washington.  He did post bond Tuesday following his Monday arrest for Rape, Sexual Misconduct with a Minor, Child Solicitation and Sexual Battery.  WAMW reported the arrest Tuesday.
     The Washington Times Herald reports that they learned the charges stem from alleged acts that took place while Hill-Junior worked as a volunteer girls soccer coach at Washington Catholic.  The Middle and High School Principal told the paper the incident remains under investigation. 
      Hill-Junior is a former Daviess County Sheriff's Department Dispatcher and Washington Police Reserve Officer.  He was suspended from the Sheriff's department upon the start of the investigation and was dismissed as a reserve officer about the same time.