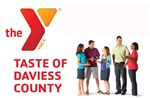 The Daviess County Family YMCA offers many services to the community at affordable prices, but sometimes for some, finances can be difficult and the Y does offer assistance to those want to participate in Y activities.  Monies to help that cause are being raised tonight at the Y's biggest fundraiser of the year, the Taste of Daviess County.  For a very reasonable price tonight, people can sample food from several area restaurants  and food providers.
    Tom Danehe, Executive Director of the Y,  talks about some of the summer programs available…
      It all starts at 4:30 at the Community Building at East Side Park.  Prices at the door are $23 for a single, $27 for a couple and $33 for a family.  Save $3 getting your tickets before the doors open.  You can buy those today at the Y. There'll be door prizes to win and much more.