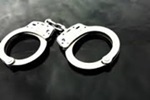 DAVIESS ARRESTS
-A Plainville woman was arrested for Dealing in a Schedule 2 Controlled Substance.  Bond for 27-year-old Shelly Phipps was set at $10,000.  She was arrested overnight by the Washington Police Department.
-47-year-old Scott McMillin of Freelandville was jailed for Dealing in Meth.  He was also arrested overnight by Washington Police.
-33-year-old Michael Murphy of Vincennes was arrested on a Failure to Appear warrant Tuesday.
-29-year-old Jordan Yancey of Washington was arrested Tuesday on 2 counts of Failure to Appear. Bond was posted.
-38-year-old William Carpenter of Odon was arrested on a Domestic Battery warrant yesterday. Bond was posted.
POLICE REPORTS
-There was a minor accident at Napa Auto Parts at 1:33 yesterday afternoon.
-A hit and run was reported at the Wal-Mart parking lot at 2:40-pm.
-Employees at Circle K on East National Highway reported a drive off.  A motorist pumped $75 in gasoline and drove away without paying.
-Washington's Utility Crews had to set a new pole after a vehicle hit a pole yesterday morning a Soutwest 11th and Old 50 causing a power outage that affect large portions of the city.