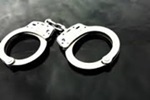 SUNDAY ARRESTS
-Tyler A. Croak, 31 of Washington was jailed on a Petition to Revoke a Suspended sentence for Battery Resulting in Bodily Injury.  The arrest was made by State Police on Sunday. Bond was posted.
-The Daviess County Sheriff's Department arrested a Washington woman for Domestic Battery in the Presence of a Minor.  34-year-old Luz Palomino Ustua was arrested Sunday.  No bond was set.
-Gordon B. Sims, 60, of Washington was picked up on an Out of County Warrant Sunday. No bond was set.
-44-year-old Jason M. Crew of Washington was picked up on a warrant for Failure to Appear for Attempted Battery by Means of a Deadly Weapon. Bond was posted.
-Connor L. Eller, 19 of Washington was booked into the Security Center Sunday for Possession of Marijuana. Bond was posted.
-19-year-old Denver B. Simmons of Washington was charged with Possession of Meth, A Schedule 3 Controlled Substance and Marijuana Sunday.  Bond was posted.
-Washington Police conducted an investigation Sunday and charged 18-year-old Alex Jorelus with Battery and Battery to a Minor under 14.  Bond was posted.
—
SATURDAY ARRESTS
-Petersen Jules, 28 of Huntingburg was arrested on a warrant for a Petition to Revoke a Suspended Sentence for Domestic Battery. Bond was posted.
-Cory L. Fetz, 37, of Plainville was jailed for Intimidation and Animal Cruelty on Saturday.  Bond was posted.
-30-year-old Max S. Rayhill of Washington was arrested for Operating While Intoxicated with Endangerment and with Greater than or Equal to .15%.  No bond was set. The arrest made by city police Saturday.
—
POLICE REPORTS
 -The snow and ice precipitation yesterday at 12:23 pm was blamed for a vehicle running off of I69 north of the Washington exit, in the southbound lanes.   The vehicle went down an embankment and into a ditch.  Southwest Medical responded and two people signed medical releases at the scene.
-A vehicle swerved off the road on I69 at the 69 mile marker at 7:44pm Saturday night. No severe injuries were reported.
-A vehicle fire was reported at 4:32 pm Saturday on Ogdon Street.
-Two bicycles were reported stolen from a yard at a McCormick Street address Saturday night.