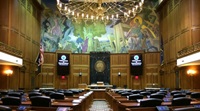 (NETWORK INDIANA)  The House opens hearings next week on its version of a new state budget.
Speaker Brian Bosma says House Republicans have been working on details of their budget plan, including computer runs of how different school funding formulas would play out in the state's 300 school districts. He says the final bill will spend more than the outline Governor Holcomb laid out last month, both on schools and other priorities.
He notes that's what Holcomb intended all along. The governor's budget left more than 100-million dollars unspent, over and above the one-point-nine-billion dollars Holcomb says the state needs to keep in reserve. Bosma and administration officials say that money was left open with an eye to leaving legislators room for their own priorities.
Holcomb proposed a two-percent increase for schools. Bosma says the House version will be more than that, but probably still below three-percent.
The House has until February 25 to pass a budget and send it to the Senate.