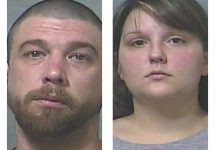 A Vigo County couple has been arrested after an extreme case of child abuse.
33 year old Scott Edwards faces charges of aggravated battery and neglect of a dependent and is being held in the Vigo County Jail on $75,000 bond.
The mother, 28 year old Holly Cota, left the child in Edwards' care and back on January 14th that child was taken to Union Hospital where emergency room staff and investigators reported that the child had a split tongue, several bruises, and other injuries.
Riley Hospital staff in Indianapolis determined that scissors were most likely used to split the child's tongue.
Doctors said the bruises were inflicted and not accidental.
Cota allegedly lied to police about how the child suffered the injuries and is facing charges of obstruction of justice.
She has been released from jail and will return to court Friday.