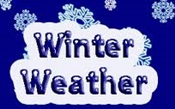 A Winter Storm Warning in effect late tonight through Sunday
      Weather experts say confidence is high for the first significant snowfall of the season across the warning area which includes, Daviess, Martin, Pike, Gibson, Knox, Greene, Sullivan Counties.  Snow will begin late tonight and will continue through the day on Saturday before ending on late Saturday night.  Snowfall amounts of 4 to 7 inches will be possible with the highest amounts mainly just south of I 70.  In our immediate area, the snow forecast is for 2 to 4 inches.
   The warning goes from midnight tonight through 7-am Sunday morning Eastern Time.
Winter Storm Warning for Davies, Knox and Martin Counties