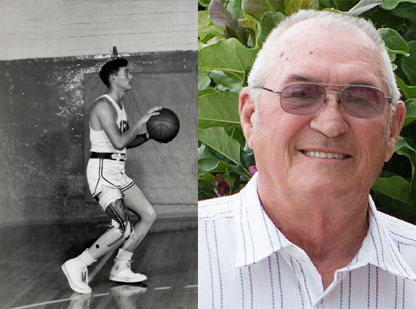 Richard L. Doades, 81, of Decker died December 13th after an 18-month battle with cancer. 
Richard was a lifelong resident of southern Knox County, born and raised near Orrville in Decker Township, and then resided in the town of Decker the past 56 years.
Richard was born January 15, 1937, the 3rd of 11 children born to Ira R. and Helen (Anthis) Doades. He attended school at Orrville and Decker Chapel, and at the age of 15, during Thanksgiving break his Freshman year, suffered a serious leg injury while clearing trees near his family's home. A few days after the accident, Richard's right leg was amputated a few inches below his right knee, and he was fitted with a prosthetic leg and foot. Not only did he learn how to walk again, but he also learned to run, and he was able to return to the Decker Chapel basketball team after a 1-year absence. Richard never used the accident as an excuse or expected to be treated differently. In fact, he went through life in such a manner that the average person would have no idea he was handicapped in any way.
Richard learned the values of hard work and responsibility growing up on a farm. He worked at Schenk Farms for nearly 25 years, then began another lengthy career as an over the road driver for P & T Trucking in Vincennes. After retiring, Richard stayed connected with local farming operations hauling grain during harvest seasons and helping on the farm at other times.
Richard was a consummate sports fan. He spent countless hours watching his children and grandchildren in their many sports endeavors, but he also enjoyed watching sports of all types. As a country-boy, Richard loved to stay connected with the outdoors, especially down in the Decker Township area of his youth, spending many days in recent summers camping, fishing, and hunting down along the White River near 'the point'. His efforts resulted in many great cookouts and fish frys that brought friends and family together.
Richard is survived by his wife of 63 years, Patricia (Peach) Doades, his children, Pam Williamson and husband Russ of Ft. Branch, Keith Doades and wife Kimberly of Vincennes, Kevin Doades and wife Marianne of Evansville, and Kent Doades and wife Jill of Bruceville. He is also survived by 10 Grandchildren – Brian Harvey, Aaron Doades, Audra (Doades) Garnett, Bethany (Harvey) Walker, Meghan (Doades) Heldt, Brandt Doades, Mallory (Doades) Kopec, Carson Doades, Shelby Doades, and Holtman Doades.
Richard also is survived by 10 Great-Grandchildren – Juliet Harvey, Drew Lichtenberg, Sophia Lichtenberg, Bradley Lichtenberg, Addison Walker, Charles Walker, Antonio Doades, Lucia Doades, Mirabelle Garnett, and Ari Garnett.
Richard is also survived by 5 sisters – Esta Erdman, Rebecca "Deanie" Sherman, and Mary Cavada of Mt. Carmel, Janet Carrie of Vincennes, and Joyce Cullison of Jasper.
Richard is preceded in death by his parents, brothers Robert, Carl, and Phillip Doades, and sisters Eva Perkins and LaJeanne Harrell.
Friends may call on the Richard Doades family at the Goodwin Family Funeral Home in Vincennes this Sunday December 16th from 5 till 8p, and his funeral service will be Monday December 17th at 10am. Burial will follow in the Memorial Park Cemetery. In lieu of flowers, the family is asking for donations to be made to the Decker Community Center or Good Samaritan Hospice.