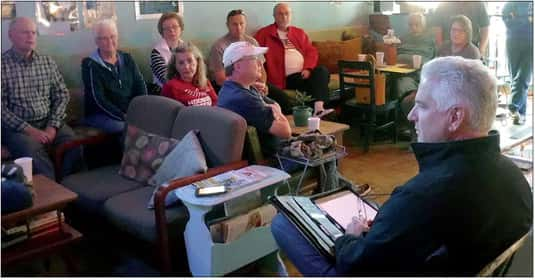 (photo from Washington Times Herald ( www.washtimesherald.com)
Education, discipline in schools, medical marijuana, the tobacco tax, and a balanced budget amendment were some of the issues discussed by nearly 20 who attended a town hall meeting conducted by State Senator Eric Bassler of Washington.
        The event held last night at the Cherry Ghost Coffee House on Main in Washington.  The senator was happy with the turnout and the talk…
Bassler told the audience that the upcoming General Assembly Session will have an organizational day next month with the session starting in January. It is a budget year with legislators tasked with crafting a new two year budget.
              We asked Senator Bassler what he thought the hot button issues other than the budget will be in the 2019 General Assembly Session.
        On the issue of marijuana, Bassler went on the record to say he's open the use of medical pot, but not to recreational use of the plant.     
       Last night was the first of several town halls to be held this fall. The next one is Thursday November 2nd at the former IGA building on Franklin Street in Spencer.  Another is scheduled for November 15th at the Shoals Library.  Both will be from 6 to 7.