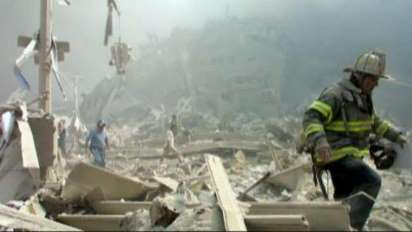 (NETWORK INDIANA)   The three-thousand people who died in the 9-11 attacks will be less than half the final death toll.
Asbestos from the collapsed Twin Towers and chemicals from the buildings and jet fuel created a witches' brew of lead, mercury, and other dangerous chemicals. The toxic sludge covered survivors and rescue workers in dust, and lingered in lower Manhattan for weeks as people returned to work at nearby businesses. Thousands of people developed asthma or chronic breathing obstructions in the weeks after the attacks — the deaths from lung ailments will soon surpass the original death toll.
But the health problems have come in two waves. Nearly 10-thousand cancers linked to the dust at Ground Zero have surfaced in recent years. I-U Health pulmonologist Khalil Diab explains the cellular damage caused in 2001 takes years to evolve into a tumor.
9/11 cancers include not just lung, but esophageal, skin and breast cancer, and multiple myeloma.
Diab notes rescuers pawed through the rubble without protective masks, increasing their exposure. But he says there were also reports of dust making its way into ventilation systems at surviving buildings.