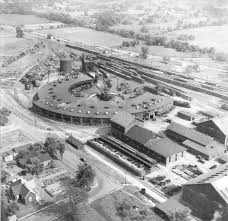 The Daviess County Historical Society welcomes B&O Railroad historian Dwight Jones to the museum on Wednesday, September 19th for a program chronicling the history of railroad caboose manufacturing in Washington, IN.
The program begins at 6 PM with doors opening one hour prior. It is free and open to the public. The Daviess County Museum is located at 212 E. Main St. in Washington.
From the early 1900s through the 1960s, the famous B&O repair yard in Washington was responsible for building and maintaining the bulk of that railroad's caboose fleet. This one-hour presentation will cover the history of manufacturing at the shops as well as a broader overview of the role the Washington repair yard played in the B&O's 13-state network.
A Columbus, OH, native, Jones is a nationally-regarded historian of the B&O railroad, researching and writing on railroad subjects for 50 years. He is the author of 21 books including the two-volume Encyclopedia of B&O Cabooses.  In the 1980s Jones completed a project to photograph every B&O diesel locomotive and caboose, the only person to have ever done so.
Visitors are encouraged to bring any photographs they may have of the B&O railroad and the repair yard to be scanned by the museum for its archives during the evening and returned to you.
CONTACT INFORMATION:
Daviess County Museum
(812) 257-0301
dchistory@sbcglobal.net