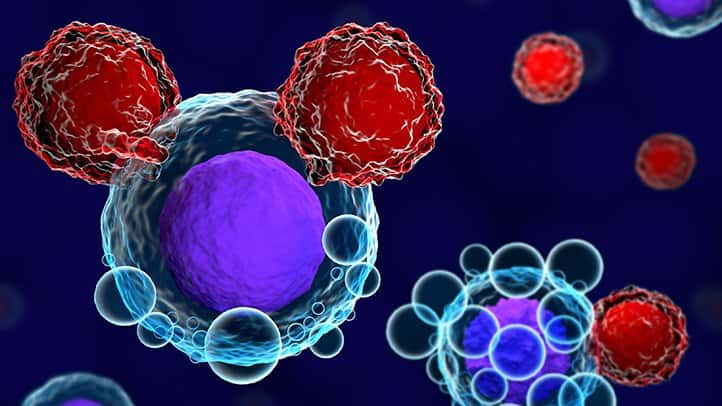 (NETWORK INDIANA)  Kylee Sweat knows her cancer is back. She's getting a new type of treatment that the FDA just approved, and it may be successful in sending her into permanent remission. At least, that's the hope that she, her doctors ad her family share.
In Sweat's room at Rilery Children's Health, a machine is hooked to her arm. A long, clear hose turns red with her blood.
"It's taking my blood out of my body and sorting it and keeping T cells," says the 18-year-old graduate of Oakland High School, ear Lafayette. She has an understanding of the new therapy called "CAR-T". Her own cells are taken out, re-engineered, and put back in to fight her acute lymphoblastic leukemia.
"It's not standard chemotherapy. So, this is therapy that is really specifically engineered to attack the patient's specific cancer," says Dr. Jody Skiles, oncologist at Riley. "We call them 'ninja' cells. These ninja cells are specifically designed to attack only the cancer cells and one other cell population."
Skiles says that makes it less toxic than standard chemo.
Sweat's family watches and talks with her as she lays in her bed in the brightly lit room, with various pieces of medical machinery hooked to her body. She wants to go to college and be a writer. She graduated second in her class. So, that dream is more than possible, if she can fight off her cancer.
Her latest relapse was in January, just before Riley Children's Health earned final approval to be a site for CAR-T therapy. Since the FDA approved the treatment last fall, Riley staff has been working to bring the treatment to Indianapolis.
Before now, patients have traveled out of state for the treatment.
"Like the first time it was the day before it would've been a year off treatment before I relapsed," says Sweat. She had a stroke during her last relapse, and Skiles describes the treatment as one of her final options. It may have come just in time.
"I'm hoping that this makes it so I don't get cancer again. In a couple of months I'll be done," says Sweat.
Her doctor feels the same way.
"My hope for Kylee is that she will go on to live a full, healthy, cancer-free life, where we never have to talk about cancer for her again," says Skiles. "And if we can do that in a way that allows her to live the healthiest life she can with the minimal side effects that we can accomplish, that's a win."