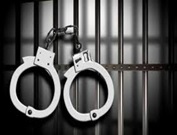 -Steven Aishe, 33 of Odon was arrested by the Indiana State Police on Friday after an investigation. He's charged with Burglary and Theft.  No bond was set.
-35-year-old Stephanie S. Neukam of Birdseye was arrested on a Petition to Revoke a Suspended Sentence for Possession of Meth and Invasion of Privacy. That arrest was made by Washington Police.
-Washington Police were called to 401 East National Highway at 5:38pm yesterday for a woman bleeding from the face.  After a brief investigation, police charged 54-year-old Vici E. Thomas of Washington with Strangulation and Domestic Battery. No bond was set.
-21-year-old Paul M. Shartzer of Washington was charged with Possession of Meth and a Syringe. The arrest was made by Washington Police. He was jailed without bond.
-Indiana State Police have charged 19-year-old Jasmine B. Wagler of Washington with Leaving the Scene of a Property Damage Accident, Possession of Marijuana and Paraphernalia.  Bond was posted.